Design

Graphic illustration of five seated individuals immersed in reading language books or conversation. One figure reads from a book labeled "English." Another has a white cane folded at his feet and accesses his text via a tablet with headphones. A couple read from an ASL book and sign with each other. The last person is seated in a wheelchair and reads from a book labeled "Arabic." The backdrop is a world map illustration. #ACCESSLANGUAGES (hashtag Access Languages) is above, with MIUSA and US State Department logos.



Graphic of passport with global emblem. A portion of the globe is highlighted red to symbolize 7% of Fund for Education Abroad scholars identify as having a disability. Additional text reads: Encourage U.S. undergraduates with disabilities to apply for Fund for Education Abroad. Scholarship deadline January 17, 2018. Fund for Education Abroad logo.

Text reads disability adds to diversity. The word disability appears to cast a shadow of the word diversity. Additional text reads: Students with disabilities are encourages to apply for the Fund for Education Abroad Scholarship. Deadline Jan17 2018.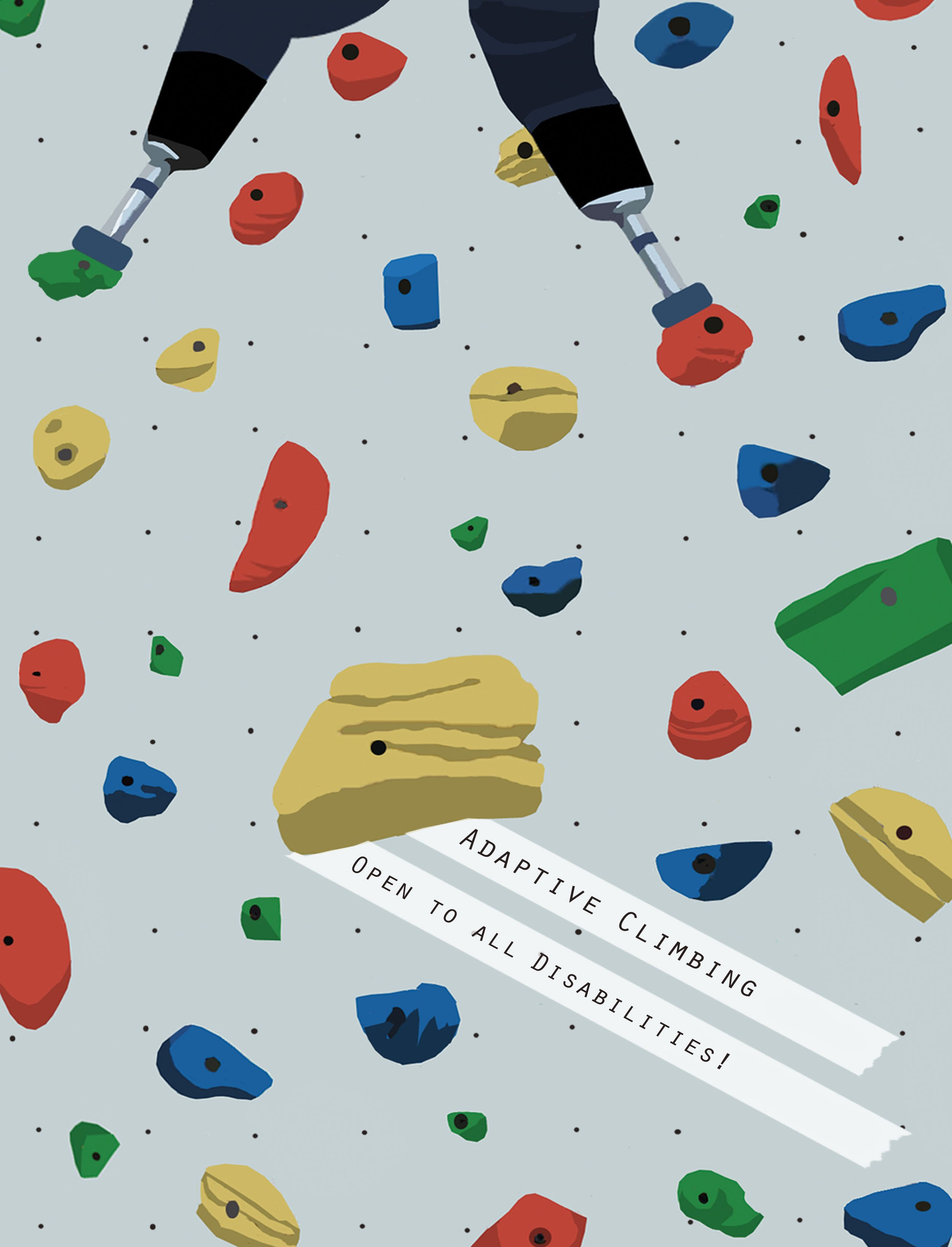 Illustration of a person with 2 leg prostheses climbing an indoor climbing gym wall with various sized and colored holds. Second illustration is of the back of a person with dark-skin reaching into a chalk bag clipped to their climbing harness. Their other arm is holding a forearm crutch. Text on both reads: Adaptive climbing open to all disabilities!
Stylized bubble letters reads: Greetings from Travelers Abroad: Life after exchangs, with photos of travelers with various disabilities filling in the letters of the word abroad. US State Department and MIUSA logos on the bottom.


Infographic with heading: Study abroad participation & students with disabilities. Data from the Open Doors Report on International Educational Exchange. First infographic is a plane ticket reading: 341 institutions reported that they had 5,641 students studying abroad with a disability in 2015/2015. Second infographic is a flight control tower with a plane taking off leaving a trail that is a line graph showing the percentages of the survey. Text reads: study abroad students: percentage with a disability. 2006/2007: 2.6%, 2007/2008: 3.0%, 2008/2009: 3.6%, 2009/2010: 4.0%, 2010/2011: 4.1%, 2011/2012: 5.0%, 2012/2013: 5.1%, 2013/2014: 5.7%, 2014/2015: 5.3%, 2015/2016: 8.8%.
Third infographic is stick figures with different disability symbols going along a moving walkway. Autism is represented by a stick figure with a infinity symbol in their head, physical disability is a stick figure in a manual wheelchair, sensory disability is a stick figure with a cane, other disability is a stick figure with no other features, chronic health disorder is a stick figure with a spoon, mental disability is a stick figure with a cloud and lightning bolt in their head, learning disability is a stick figure with mechanical gears in their head. Below each stick figure is a percentage and disability. Text reads: Study Abroad Students: Type of Disability, 2015/2016. 1.8% Autism Spectrum Disorder 3.6% Physical Disability, 4.4% Sensory Disability, 4.9% Other Disability, 23.2% Chronic Health Disorder, 27.7% Mental Disability, 34.4% Learning Disability. This is the first year that Autism Spectrum Disorder and Chronic Health Disorder were categories in the survey. In 2014/2015 the Other Disability category was 20.7%. Source: wwww.iie.org/Research-and-Insights/Open-Doors/Data/US-Study-Abroad/Student-with-Disabilities The National Clearinghouse on Disability and Exchange is a project of the U.S. Department of State's Bureau of Educational and Cultural Affairs, designed to increase the participation of people with disabilities in international exchange between the United States and other countries, and is supported in its implementation by Mobility International USA. Logos of MIUSA with a world and U.S. Department of State eagle and shield seal.